The average American spends roughly $1,100 a year on coffee. A large part of this budget will end up in the Starbucks chain, which with an annual turnover of 22 billion dollars is one of the biggest players on the coffee scene. Probably no one will be surprised by the fact that their loyalty system is one of the most popular and used in the world. Up to 16 million people are involved in the program. In addition, the coffee giant claims that users of the Starbucks Rewards loyalty system are behind the increase in sales in recent years.




What makes Starbucks Rewards such a successful loyalty program? The possibility to order and pay online before arriving at the cafe? Or are they personalized offers based on your previous transactions? Or maybe the ability to identify and instantly download to Spotify the music you liked so much in the coffee shop?


Starbucks Rewards in a Nutshell - Simplicity, Fun, Rewards

SDownload the app, create an account and load your virtual Starbucks card with any amount. Thanks to these three steps, you can view the current offer, receive special offers and order anything from the menu directly through the app and you don't have to wait in line at all. When you arrive at the store, you simply pick up your order and, of course, you will be credited with stars (which are the main currency of Starbucks Rewards) in the app.

As a customer, you can find everything in the mobile app - information about upcoming promotions, news, status of collected stars. In addition, the app has a simple and clear design that suits all target groups.

But let's take a look at what users praise the most about it:


Every purchase = stard. Stars = rewards.

For every purchase you collect stars, which you can exchange for free drinks or food. 1 minute dollar = 2 stars.

In addition, however, bonus stars can be collected within the framework of personalized offers (about which you will be informed by push notification, for example: "Try the new cinnamon latte from our autumn menu until the end of November and get 50 stars!") or by using "Double Star Days", when the entire order will receive double the number of stars.


Super convenient solution

Starbucks knows its target group well - a large part of customers take their coffee with them because they need to go back to work or school. How did they satisfy this group of people? They simply allowed them to order and pay for coffee or food via the app in advance, so that their order is already ready when they arrive at the store.


A feeling of excellence

Are you one of those people who prefer to sit down with their laptop for a few hours in the pleasant surroundings of a cafe? You're not the only one - that's why Starbucks offers free refills - and that's one of the "rewards" if you're a member of their loyalty system.

You work, you enjoy coffee and good food + on top of all that, the staff takes care of you like a VIP and refills your coffee or tea during your entire stay in the cafe completely free of charge. Nice idea, isn't it?


Multilevel rewards

A popular feature here at TRIFFT - instead of one reward, the customer can choose from several, in the case of Starbucks the following:


for 25 stars - the possibility to customize the drink according to your wishes (add vanilla syrup, replace classic milk with coconut milk, add an espresso shot),
for 50 stars - free coffee, tea or small snack,
for 150 stars - coffee, hot breakfast or parfait,
for 200 stars - lunch sandwich, protein box or salad,
for 400 stars - a whole package of coffee, company merch or coffee accessories for home use.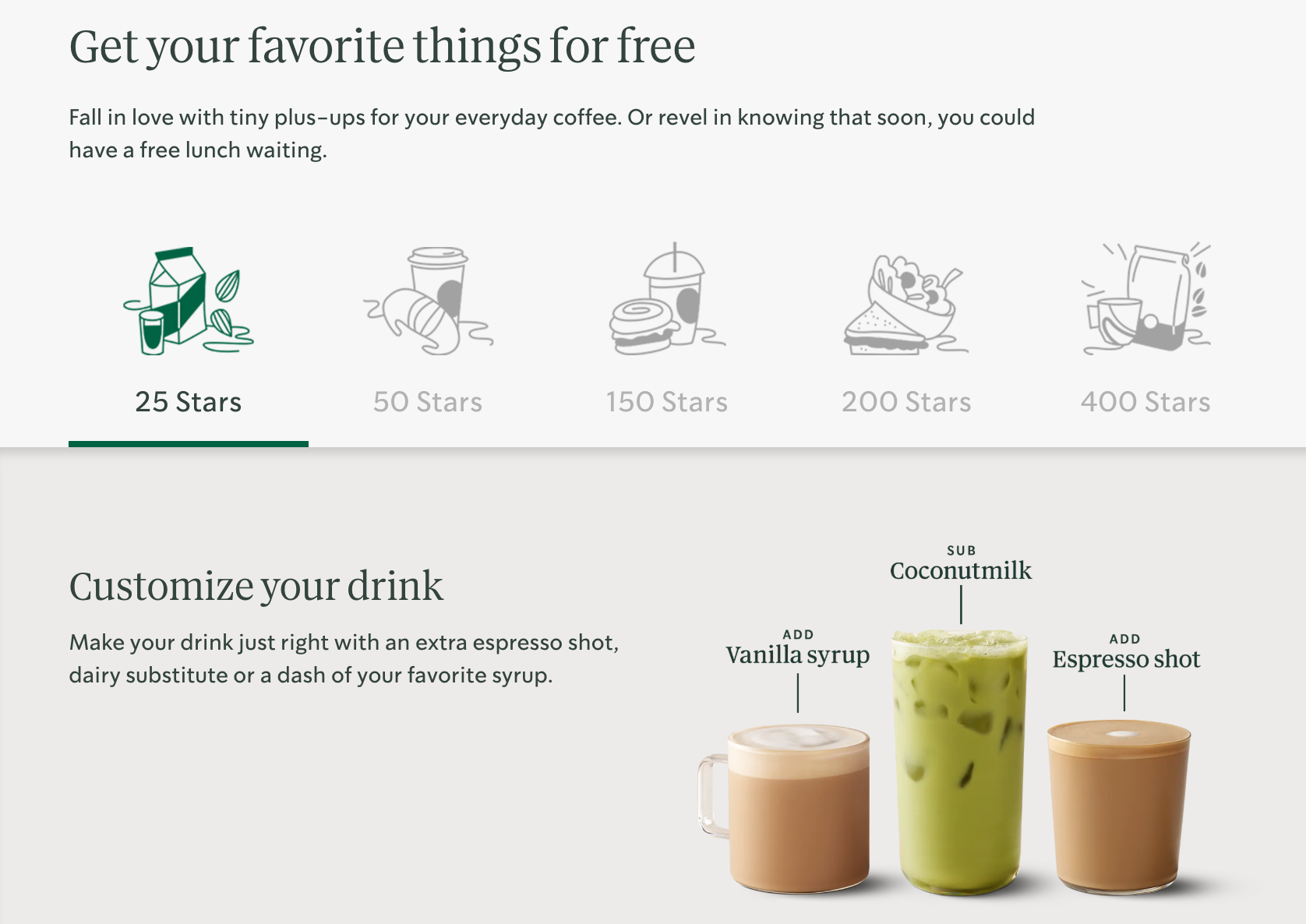 Gamification

Right now, the first augmented reality game from the Starbucks workshop is being released, which is not connected to the loyalty app itself, but if you want to play it, you have to be a member of the loyalty program. The game will be available until April only in the US and Canada and will work on a similar principle to Pokemon Go - but instead of Pokemon, you will be able to catch, as usual, stars, thanks to which you will be able to win prizes for a total of 2.5 million dollars.