Conferences offer a unique opportunity to connect with fellow professionals and industry leaders, bringing together a wealth of knowledge and expertise under one roof. That's why TRIFFT Loyalty Cloud carefully selects a curated list of top retail conferences to attend each year.
Among these esteemed events, Shoptalk stands out as a must-attend gathering. 
Shoptalk is a premier retail event that serves as a melting pot for innovation, ideas, and connections in the retail industry. It brings together a diverse community of professionals, ranging from industry leaders to startups and disruptors, all driven by a shared passion for shaping the future of retail. 
Attendees have the chance to engage in inspiring talks by industry luminaries, explore the latest technologies and trends in the bustling exhibition space, and forge meaningful connections with like-minded individuals. 
Shoptalk Events Througout the Year
From the flagship Shoptalk Las Vegas event, known for its sheer scale and impact, to regional editions like Shoptalk Europe and Shoptalk Meetup, held in key cities across the globe, there's a Shoptalk event for every retail enthusiast. Each event boasts a carefully curated lineup of keynote speakers, expert panels, interactive sessions, and captivating exhibits, covering a broad spectrum of topics that define the retail landscape.
In 2023, there are a total of 4 events: 
SHOPTALK, March 17-20, 2023 in Las Vegas (2024 event will take place in Las Vegas from March 17-20 in Mandalay Bay)
SHOPTALK Europe, May 9-11, 2023 in Barcelona (2024 event will take place in Barcelona from June 3-5 in Fira Barcelona)
SHOPTALK Meetup for Women, June 27-29, 2023 will take place online
SHOPTALK Fall, launching October 8-10, 2023 in Chicago
Shoptalk welcomes a wide array of professionals from all corners of the retail and e-commerce world, from seasoned executives and industry leaders to innovative startups and disruptive trailblazers. 
You'll find CEOs, CMOs, and CIOs from established retailers, eager to connect with peers and gain fresh insights into industry trends. 
The bustling exhibit floor also showcases numerous exhibitors presenting their products, services, and solutions.
Shoptalk offers various ticket options to cater to different attendee needs. General attendance tickets for Shoptalk events generally start at around $3,000 or more. It's important to note that ticket prices tend to increase as the event date draws nearer.
Shoptalk also offers additional ticket options (with limited avalability) for startups in either the early or growth stage. These tickets provide a more affordable entry point. 
If you're interested in exhibiting at Shoptalk, the prices for booth spaces can vary depending on the size and location of the booth. It is highly recommended to secure your exhibit space early as the demand is high, and spots tend to sell out quickly. 
Plus, there are special rates available for retailers and brand representatives to encourage their active participation and engagement. 
Qualified retailers and brands may even be eligible for complimentary Shoptalk tickets, along with a generous travel and hotel reimbursement of up to $750. The receipts for eligible expenses need to be submitted after the event, and Shoptalk will provide the reimbursement based on the amount spent. 
What is Included in the Ticket Price?
With the purchase of a ticket, you're not just gaining access to a world of knowledge and networking opportunities; you're also securing a golden ticket to nonstop access to local delicacies. From the moment you step through the doors, you'll be greeted with a bounty of breakfast options. As the day unfolds, get ready to dive into a variety of lunch options that cater to all tastes and preferences. Plus, let's not forget the ongoing snack bonanza that will keep you energized throughout the event.
To make the experience even better, Shoptalk will keep the drinks flowing to end each conference day on a high note. Oh, and here's the icing on the cake: the exhibitors and sponsors have even more food and beverage surprises in store for you, which you can typically indulge in by simply letting them scan your conference badge. So, bring your appetite, make new connections, and prepare for a feast of flavors!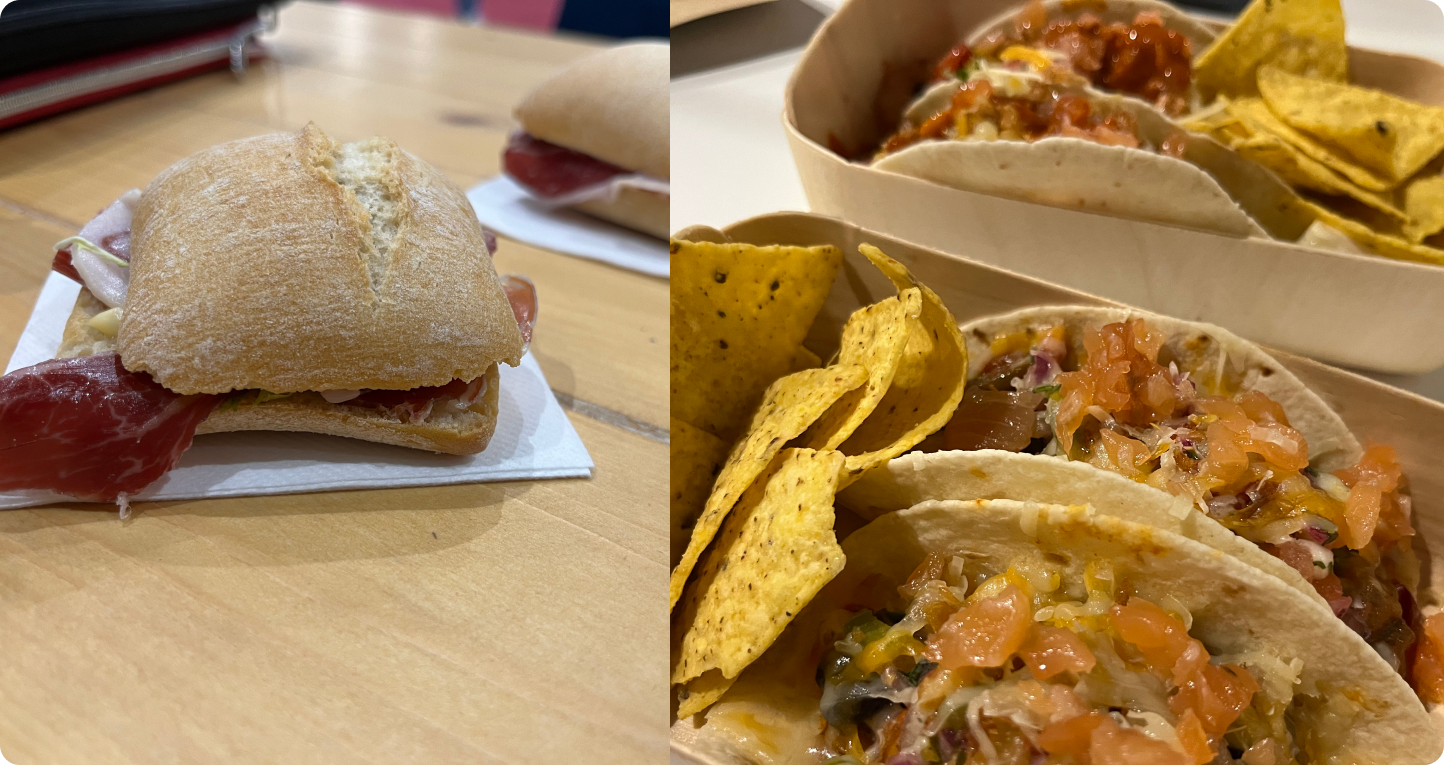 There's plenty of seating options for attendees to work and relax all around the venue. However, it's worth noting that as the engaging talk sessions come to an end, the seating areas tend to become crowded with people gathering to enjoy the food and drinks provided. The lively atmosphere and networkng often contribute to the increased occupancy of these spaces.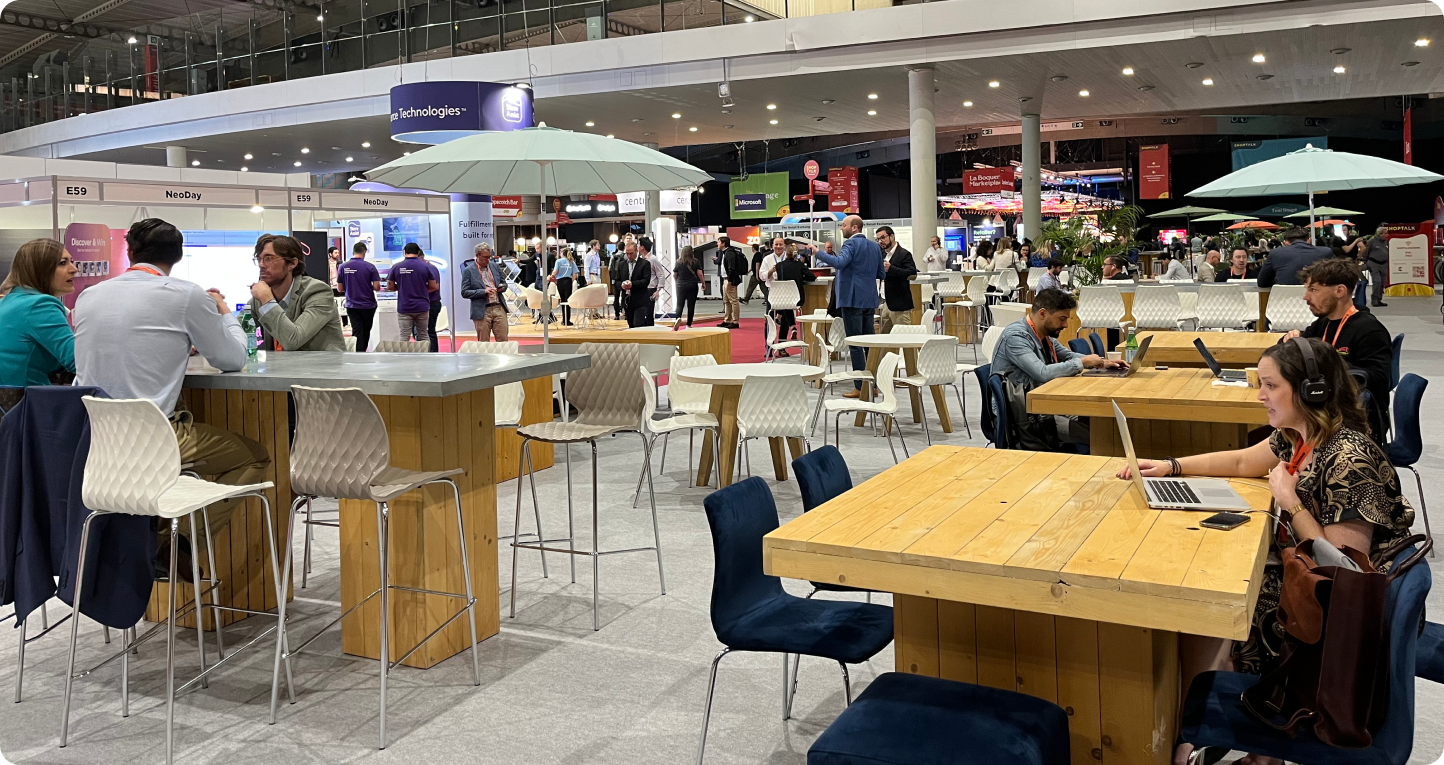 What Extra Charges to Expect (as an exhibitor)?
As an exhibitor at Shoptalk, while you pay for the booth itself, but you have to be prepared for additional expenses. For example, investing in badge scanners can streamline the process of collecting contact details from your booth visitors, allowing for efficient follow-ups and networking. Additionally, you might need to procure equipment such as TVs, carpets, and chairs to create an inviting and visually appealing booth environment.
It's worth noting that these add-ons are typically purchased through third-party companies, and their costs can be quite significant. It's advisable to plan and budget for these expenses well in advance (hundreds to thousands of dollars). 
Each day of Shoptalk is packed with a diverse range of activities, including insightful talking sessions and panel discussions featuring top representatives from renowned brands and retailers. These sessions cover a wide array of topics, from emerging trends and technologies to customer experience and market strategies.
As the popularity of certain sessions can lead to high demand, it's possible that you may not be able to secure a seat inside the designated hall. If you couldn't get a seat inside, TVs are set up to broadcast the sessions live outside the halls. 
Shoptalk onsite Meetup is an exciting feature of the event (open to all Shoptalk attendees at no additional cost) that provides attendees with valuable networking opportunities in a more intimate and focused setting. The retailers or brands with complimentary Shoptalk tickets are required to take up to eight 15-minute of these onsite meetings. 
In addition to the insightful discussions and panels, there's an expansive exhibition floor that is brimming with vendors representing a wide range of companies and solutions you can engage directly with. Of course, expect to get some exciting merch throughout the event.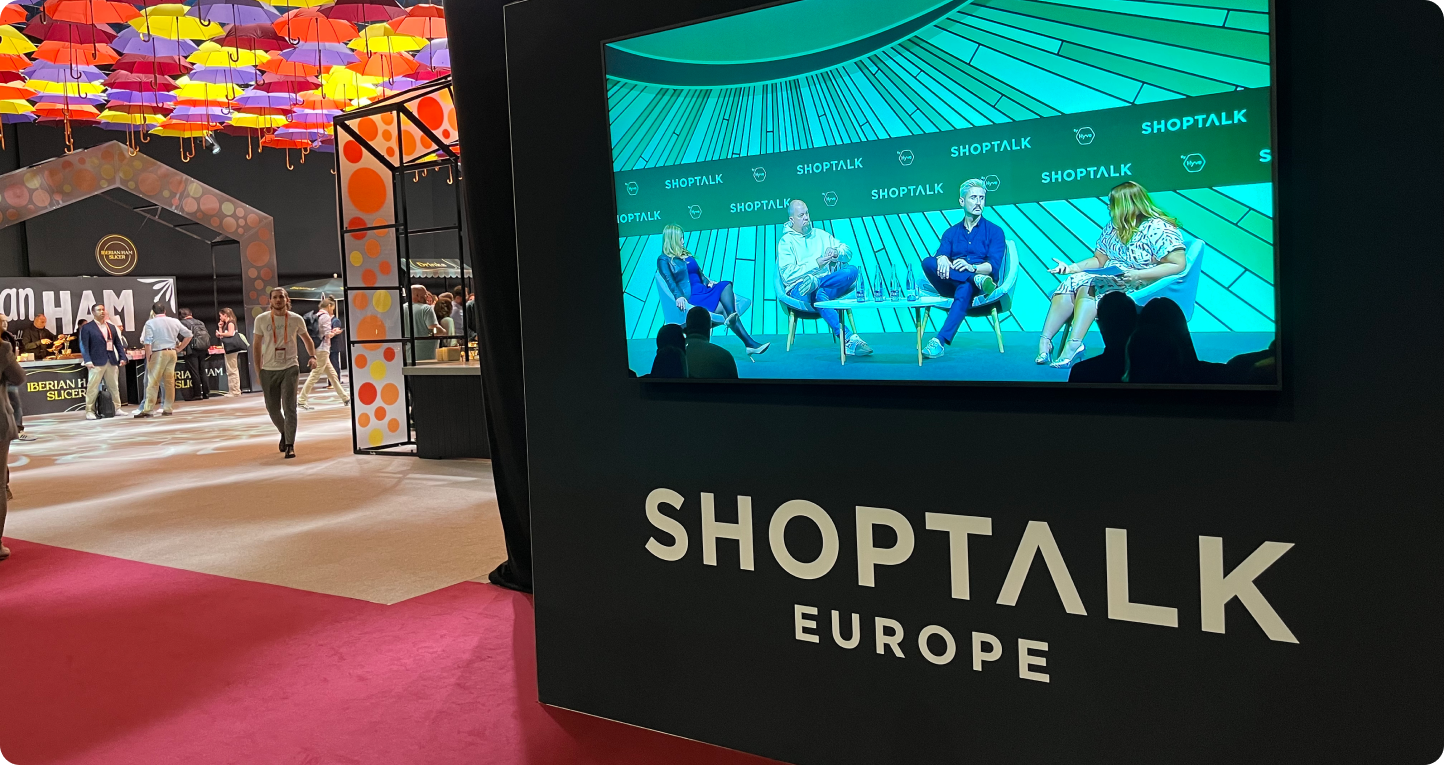 Just like any other conference, the daytime events at Shoptalk call for a smart-casual attire. You'll want to dress comfortably yet professionally. And don't forget to pack comfortable shoes because at Shoptalk, you'll be covering some serious ground! The venue is usually expansive, filled with numerous booths, stages, and areas to explore. 
However, when it comes to the evening party, get ready to kick back and relax in more laid-back outfits. The party atmosphere calls for a relaxed vibe. These parties sometimes come with exciting themes, such as an all-white dress code or other creative concepts. To stay in the loop and be fully prepared, make sure to keep an eye on the announcement emails for any specific details.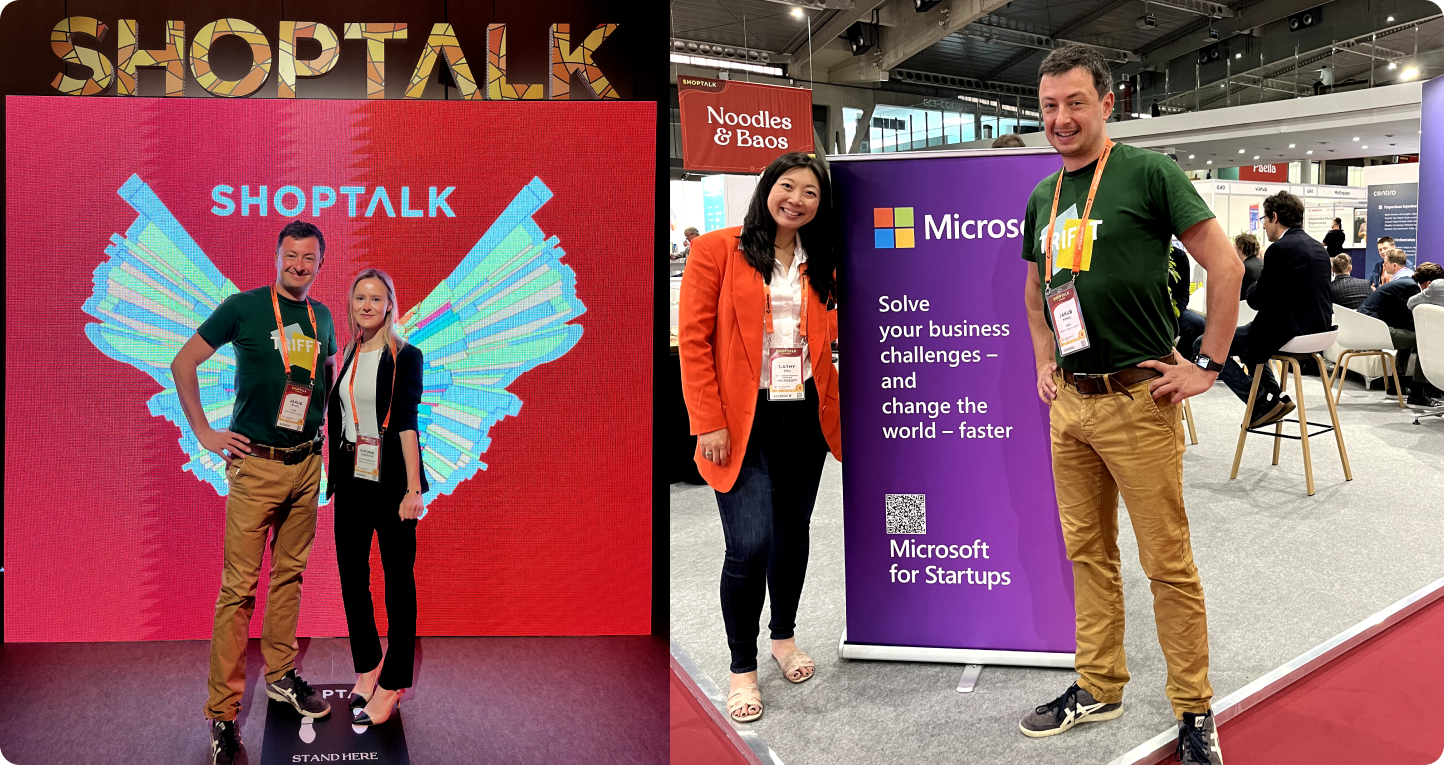 Shoptalk knows how to blend networking and fun seamlessly, and never misses a chance to throw an unforgettable party outside the exhibition space.
Picture this: a vibrant atmosphere in a popular local venue, starting from the evening and extending into the late hours. The party is a feast for the senses, with an abundance of food and drinks to enjoy while grooving to the beats of the music (sometimes with well-known music artists).
However, it's worth mentioning that at times, the lines to grab your favorite food and drinks can get a bit lengthy.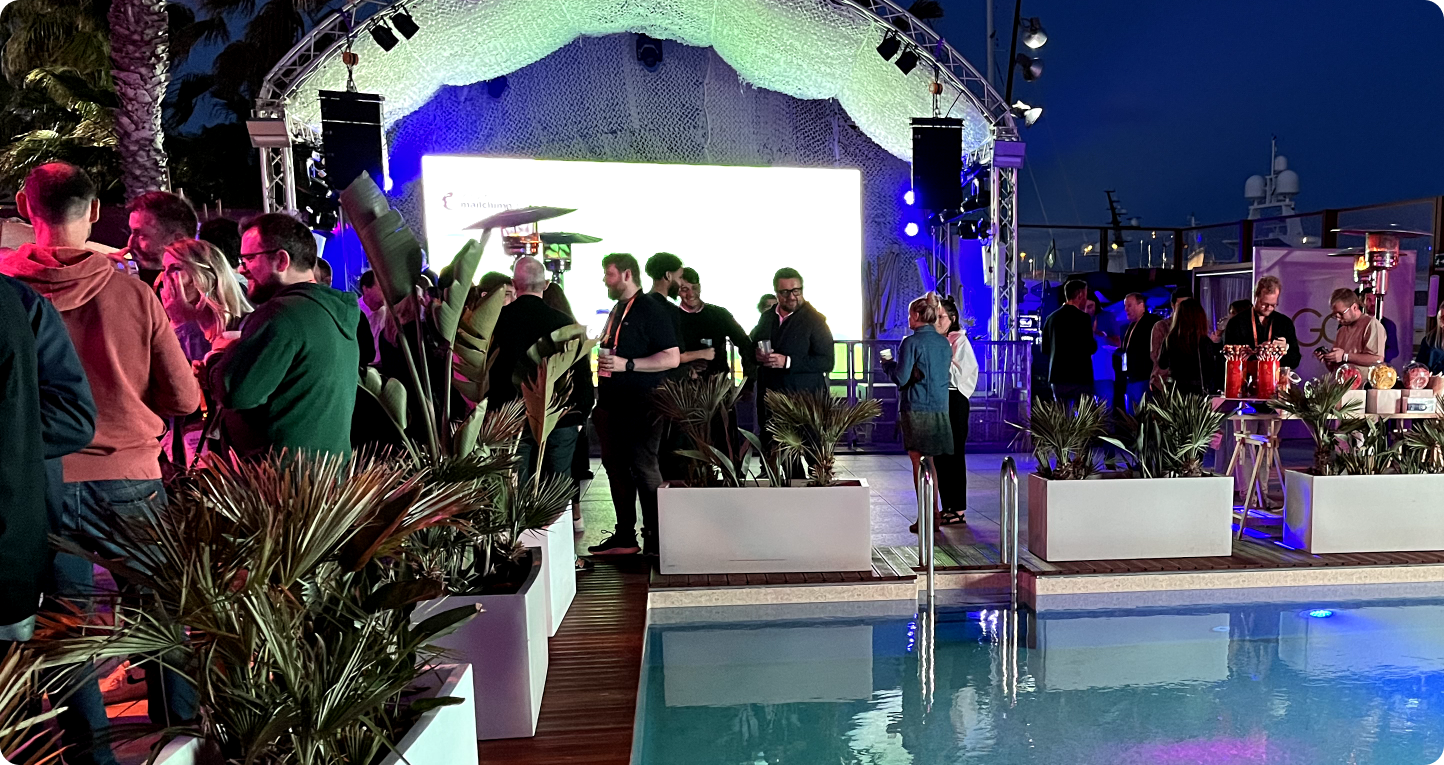 Is Shoptalk Worth Visiting?
From TRIFFT's perspective it is an absolute YES! We love the combination of meaningful networking and laid-back, friendly atmosphere of Shoptalk events, without having to worry about anything but building a great professional network. 
Do you want to create awesome loyalty experiences?
Get in touch with TRIFFT Loyalty Cloud!