The restaurant industry was hit hard by COVID-19. Times are still uncertain for many businesses as the battle with rising prices, supply chain issues, skilled labor shortage etc. goes on.

It is now more important than ever to keep a sharp focus on retaining customers in a bid to boost revenue. Of course, customer acquisition is important for business growth (and deserves its own TRIFFT article), but addressing the needs and aspirations of your existing customer base will bring faster results and healthy business fundamentals.

Here are TRIFFT's top 5 tried-and-tested tactics to increase revenue by driving visit frequency up in the restaurant business.

1. Creating new occasions for extra visits
Most of us have favorite office lunch spots, cafes, fine dining places. We typically visit those at particular days of the week or very specific hours, but would not really think of them when selecting for example a birthday or bachelor's party venue.

The special offer or discount can, however, make a big difference in a consumer's decision-making process. Even a small discount of 10% can appear tempting enough for the budget-savvy customer.

Moreover, this way the restaurant can fill less conventional times or push strategically important initiatives, like introducing Sunday family brunches or birthday parties.

Mechanic: Offer an extra incentive to customers who visit often at certain occasion to try visiting for different occasion. For example, invite your regular lunch-goers for after work drink happy hour, or offer them a discount for special events such as birthday parties.

Benefit: Discounts for special events such as birthday parties can make customers choose you over your competitor.

Example: 10% off the whole birthday party bill.
2. Multiple-visit coupons
There's something magical about pre-paid coupons. The customers, on one hand, feel good about the choice they've made because they got a better deal buying multiple-visit coupons. The brand, on the other hand, receives instant money to be used elsewhere. Statistically speaking, some of the coupons never get redeemed, increasing the profits even more.

This strategy also contributes to habit building as it incentivizes repeat visits.

Mechanic: Purchase multiple coupons at once, and redeem a maximum of one per day

Benefit: Drive multiple visits, improve cashflow from prepayment and unused balances

Example: Buy four $10-off coupons for $30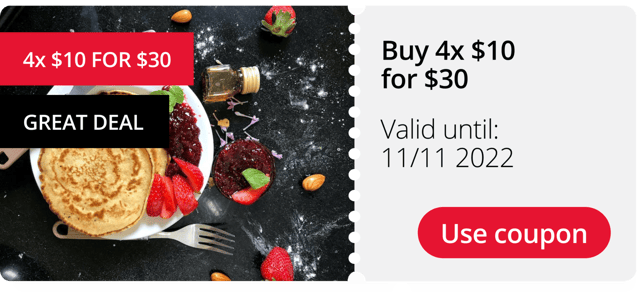 3. Extra points/rewards for reaching visit goal
No matter what age, we all like games. Sometimes a gamified incentive as simple as giving your patrons a chance to gain extra loyalty points for showing up more often can make a real difference in the average visit frequency.

To improve results, you can set up automated regular reminders and leverage stretch goals and FOMO (fear of missing out) to improve results.

If you decide to incorporate extra points/rewards into your loyalty strategy, be sure to set a target frequency of visits based on the type of business you run. For example, cafeterias and QSRs should set up weekly goals, while fine dining restaurants or bars will do better with monthly targets).

Mechanic: Simple "quest" – do X to get Y. The goal visit frequency should be 10-20% higher than the as-is visit frequency of your target segment.

Benefit: Drive up visit frequency from customers who are already regulars. In our experience, ca. 10% increase is achievable.

Example: Visit 3x this week to get 10 extra points.

4. Reach goal this period to get a reward in the next period
Awarding your customers for reaching a certain goal is key to supporting habit formation. The beauty of this mechanic is that it creates a potentially endless "combo chain" – reaching the goal now creates benefits that customers can use during future visits (not immediately). This creates another reason to visit and take advantage of benefits – and the circle continues over and over…

Mechanic: Do X now to get Y next period (advanced version of "Do X to get Y")

Benefit: This automatically creates incentive to extend this "combo" across multiple consecutive periods

Example: Visit 3x this month to get free soup/drink with main dish anytime you visit during next month

5. Address the right RFM segments with coupon and CTA
More often than not, providing discounts to all customers is not a good idea. Such a strategy typically cuts deep into the company's margin without bringing sufficient benefits. Discounting may also hurt your brand equity.

There's one way to use discounts correctly though, by targeting only those customers who need the extra push. Never resort to long-term discounting, especially with those customers that are willing to pay full price. Segmentation is therefore crucial for your loyalty program.

Mechanic: Identify customers who used to visit often and now "dropped out". Address them and offer an incentive to come back.

Benefit: Coupons targeted to a well-focused group can offer bigger value without destroying profitability & brand image.

Example: "Dear Jane, we've missed you lately… a free drink on us?"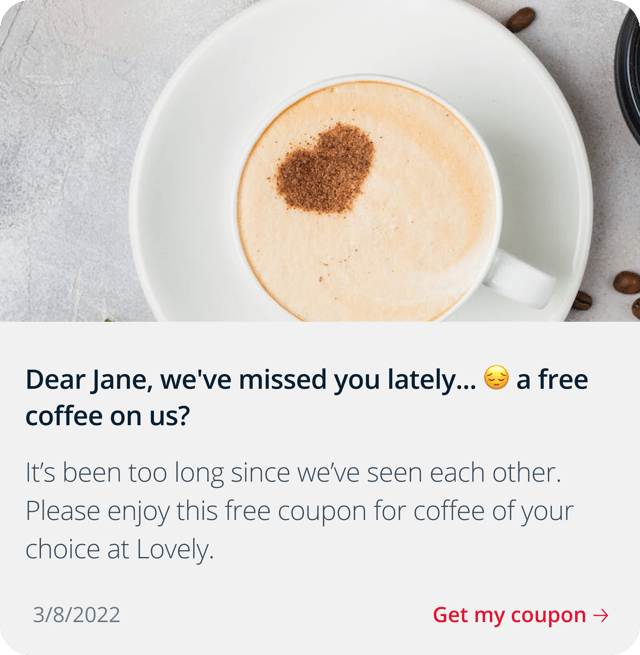 Maximising value from your existing customer base is a more predictable and faster way to move the needle on restaurant visit frequency and thus profitability. As long as your regular customers are part of the loyalty program, there is something you can do with all of them – from those who are just starting to frequent your place, to the regulars and to those who you are at risk of losing.

Like everything in business, and loyalty marketing in particular, you will need to try and test what works for you. Depending on the type of restaurant concept you run, you should build your loyalty program to fit the needs and preferences of individual generations. Also, for further inspiration, check out our review of best QSR rewards programs!

So go out there, talk to your customers, test out different mechanics, iterate on what does not work and double-down on your best cases!

Good luck, happy patrons and healthy business results!